How You Can Help
Our donors and supporters | Sponsorship scheme
 MAKE A DONATION OR BECOME A SPONSOR
One-off donations are always welcome, contact your country representative or the secretary. Better still join our sponsorship scheme.
Donations in the UK and EUROPE
IPPG-UK can now gift aid all donations. Please download and return the IPPG Gift aid declaration
Here is how you can make a donation to IPPG in the UK:
2) Send a cheque (in pounds) in the name of International Porter Protection Group to:
IPPG c/o Dr Emma Mason
15 Kyveilog Street
Cardiff, CF11 9JA, UK
3) Through internet banking/direct deposit/electronic transfer:
Please contact us for bank details.
BECOME PART OF IPPG
The UK arm of IPPG is a registered charity and you can find details about joining on the membership page
If you are elsewhere in the world become part of IPPG by donating time, effort, skills or cash! Contact your country representative or the secretary if you can help.
If you wish to become a representative in your country, read becoming an IPPG rep for more info on what it entails.
SPREAD THE WORD
Print off and disseminate any of the information on this website, in particular the guidelines for ethical trekking. Anyone can be an activist and lobby government and media. all we ask is that you check with your country representative or the secretary before using IPPG's name.
WHILE TREKKING
If you employ porters, follow the guidelines for ethical trekking and treat your porters as you would like to be treated yourself.
If you go trekking with a trekking company, ask them about their porter treatment policy.
Finally, report any incidents of neglect or abuse that you witness while trekking. If possible, take note of the date, place, time and group involved and what exactly happened; photos are useful. Please send your reports to us.
ORGANISE A FUNDRAISER
Are you about to embark on your 'adventure of a lifetime'? Why not ask all your friends and family to sponsor you for it and raise a donation for IPPG? For example you could ask them to sponsor you for 1¢ / 1p a meter climbed if you're going up, or 10¢ /10p a kilometer if going along!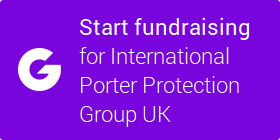 DONATION OF CLOTHES
Should you wish to contribute clothes or footwear for porters clothing banks, contact us. Useful clothes include good quality wind shell, fleece jackets and boots (up to size 9). Don't forget clothing may be dropped off at a clothing bank after your trek.